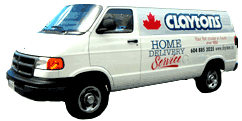 We can deliver groceries, flowers, and gift baskets in the Sechelt area. Call us and we will quote a fee, based on the distance to travel and the size of the order. If you need us to shop the order, there may be a fee for this as well (see "We Shop For You").
We are able to deliver to the downtown Sechelt area on most days of the week for $7.00. On Wednesdays (for pooled orders placed by 11a.m., we extend this range to West Sechelt and the Western Boundary of Wilson Creek, and we reduce the fee to $5.00.
Other areas off the main Hwy may be possible, call us with your request. (604) 885-2025 ext #1.
All deliveries are subject to a minimum order size requirement, depending on the respective area of delivery; for example, for any delivery to downtown Sechelt, a minimum order size of $35.00, excluding tobacco products, is required.